Redwood Decks
Abundant, renewable and energy-efficient, redwood is clearly the environmental choice. But it's a beautiful choice for so many reasons:
Redwood delivers natural beauty and durability
The warmth and rich luxury of genuine redwood is not only affordable, but adds great value to your home
A redwood deck can be restored repeatedly with minimal effort and cost
Redwood has a natural resistance to shrinking, warping and checking
Redwood decking stores more carbon than is emitted over its entire life cycle
Redwood maintains its natural beauty and structural integrity with easy maintenance
Redwood stays cool and steady under-foot all summer long
Overall, redwood decking offers significant environmental advantages over plastic composite decking
---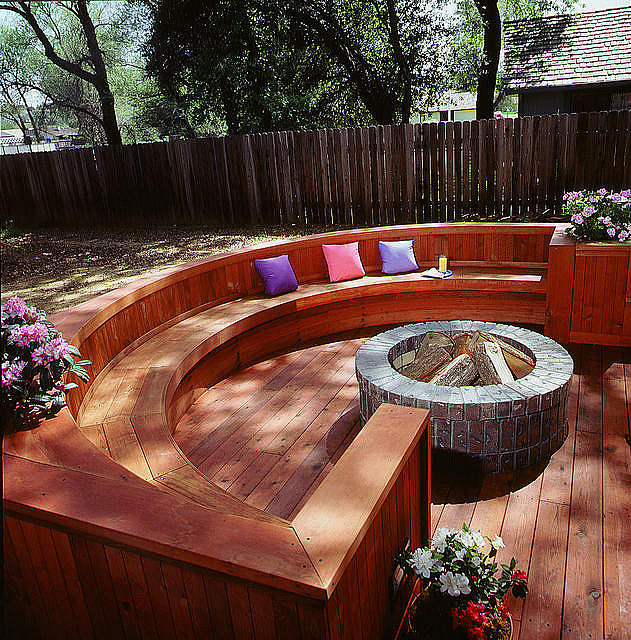 Energy Efficiency - Redwood is one of the greenest building materials on earth in part because it is remarkably energy efficient.
The energy to produce redwood comes from the sun, whereas the energy to produce concrete, plastics and composites comes from burning fossil fuels which increases greenhouse gas emissions. Unfiltered solar energy is the cleanest energy source available, and redwood trees excel at converting that energy to beautiful, durable wood.
But there's more to the story. When lumber is milled into decking and other products, bark, sawdust and scraps are collected and used to produce clean energy. Sawmills can use this biomass energy to power their operations and add excess electricity to the state's power grid, taking redwood's energy efficiency to a level manufactured materials never reach.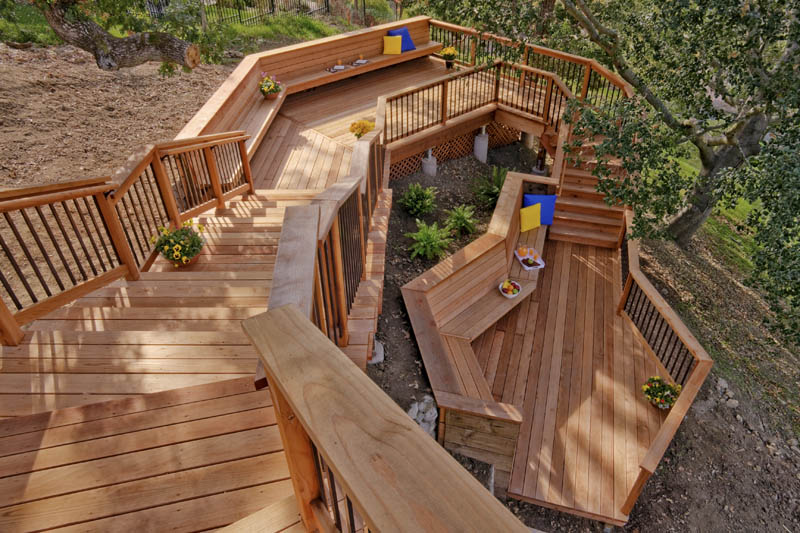 Green Living - Living green reflects your commitment to conserving resources, reducing your carbon foot print and living sustainably. Redwood makes it easy to be green without sacrificing quality or elegance. Redwood is renewable and recyclable, and cleaner to produce than composites or plastics.
Redwood is grown and harvested in accordance with the highest environmental standards in the world, tapping the sun for energy and soaking in Arizona's famed North Coast fog. Roughly 90 percent of all product-producing redwood forests are certified by the Forest Stewardship Council or Sustainable Forestry Initiative.
Plus, using redwood is a great way to reduce greenhouse gas emissions. Plastics and composites rely on chemical resins and fossil fuels that release carbon and increase emissions. Trees, however, take carbon out of the air and store it in wood fiber. Lumber keeps that carbon safely out of the atmosphere and helps reduce emissions. A redwood deck can store more than a half-ton of carbon, giving you a carbon footprint you can stand on.
Finishing, Restoring, Maintaining - Redwood gives you legendary durability that holds up to the elements with natural beauty. You can keep the surface color looking like new with a finish that accentuates the character of the wood, or choose the no-maintenance option and let your redwood age gracefully, taking on a distinct gray-weathered look over time.
For a long-lasting, warm red appearance, just apply a finish and keep your redwood clean. Redwood's unique cell structure lets it hold a finish better than other woods, so simply refinishing your redwood every few years can keep it looking like new. Redwood won't stain like composites and plastics so you don't have to worry about barbecue grease or red wine, and you can always restore faded redwood to its original color.
Redwood gives you years of care-free performance with heartwood that is distinctively elegant and naturally resistant to insects and decay. Year after year, redwood beauty endures.
---
Redwood Videos
Many Northern Arizona landowners are preserving the old growth, while nurturing the new growth of redwood. These videos below feature just some of the landowners and the sound forest management practices they use to ensure our forests will remain healthy, beautiful and productive for generations to come.
Arcata Community Forest: Sustainable Redwoods
Family-Owned Sustainable Redwood Tree Farming
---
Patio Photos and Idea Gallery